Welcome to The Kindaichi Case Files Wiki.
The Wiki that anyone can edit.
We are currently editing over 1,029 articles, and 3,583 files
Featured Episode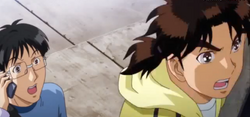 The File of Young Kindaichi Returns Episode 2 After the murder of Chan, Hajime and Saki stayed inside the house of Long Dong. While watching the Lazer Light show, they were greeted with another murder. Shan Li was said to be beaten to death in the room just above Long Dong's. As the gang tried to uncover the series of murders and mystery revolving around Hong Kong, they uncover the true secret of the Poison Dragon, a bomb that can eradicate the whole land of Hong Kong.


Featured Murder
Amakusa Treasure Legend Murder Case
The excavation tour of Amakusa Treasure still going on even though two murders had occured. When they got another clues from the deceased Fujiko Akamine, they want to go to Jutosama tomorrow. The treasure hunter, Hideaki Akamon, didn't want to wait the others and go to Jutosama at early morning. But, Itsuki and Hazuki found Akamon killed when they went to see the big rock of Jutosama at the same morning.

Featured Character
Shin'nosuke Yukimura, he appeared as a suspect in Hakodate Western-style Hotel, The New Murder. He is a Superintendent of the Metropolitan Police Office and Akechi's Subordinate. Read more...
Featured Quote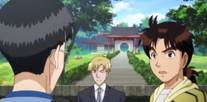 "
How could I abandon Miyuki and Ran?
"
Poll
Latest Poll
By 12 (50% of) votes,
the leader of the Seventh Poll,
for favorite case on anime Kindaichi 1997 Series Part 4 (Episode 78 - Episode 99), goes to
Shanghai Mermaid Legend Murder Case.
Runners-up: Amakusa Treasure Legend Murder Case (7 (29.17 of) votes). The poll was created at 08:39 on May 10, 2020, and 24 people voted.
Community content is available under
CC-BY-SA
unless otherwise noted.